William Hogarth - «Time Smoking a Picture»
Publié
par

Clifford Armion
le
20/06/2013
Reproduction commentée de l'oeuvre ((Time Smoking a Picture)) du graveur anglais William Hogarth.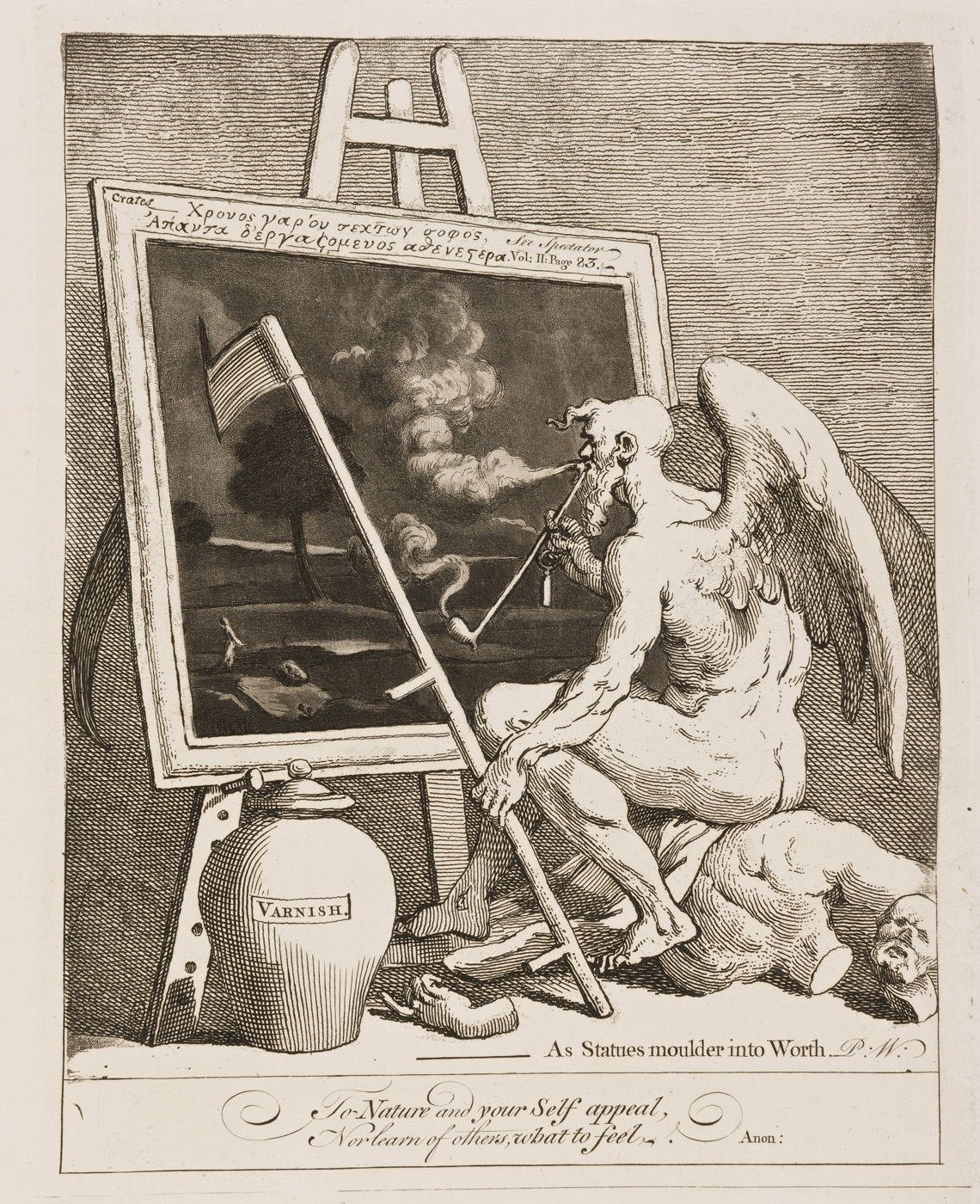 Time Smoking a Picture (HD download)
This animated Print was Hogarth's Subscription Ticket for Sigismunda, and is a Satire on Connoisseurs.
It represents Time seated on a mutilated Statue, and smoking a Landscape, through which he has driven a scythe, to manifest its antiquity, not only by sombre cloudy tints, but also by a decayed canvass. "From a contempt," says Mr. Walpole, "of the ignorant Virtuosi of the age, and from indignation at the impudent tricks of Picture-dealers, whom he saw continually recommending and vending vile copies to bubble Collectors, and from never having studied, indeed having seen few good Pictures of the great Italian Masters, he persuaded himself that the praises bestowed on those glorious works were nothing but the effects of prejudice. He talked this language till he believed it; and, having after asserted as true, that time gives a mellowness to colours, and improves them, he not only denied the proposition, but maintained that Pictures only grew black, and worse by age, not distinguishing between the degrees in which the proposition might be true or false." It must, however, be generally admitted, whether Mr. Walpole's remarks are right or wrong, that Mr. Hogarth has admirably illustrated his own doctrine, and given greater point to his burlesque by introducing the fragments of a Statue, beneath which is written,
"As Statues moulder into worth." P. W.
By part of this Print being in mezzotinto, and the remainder etched, it has a singularly striking and spirited appearance. The large Jar, labelled "Varnish," is characteristic.