William Hogarth - «Finis, on The Bathos»
Publié
par

Clifford Armion
le
24/06/2013
Reproduction commentée de l'oeuvre ((Finis, on The Bathos)) du graveur anglais William Hogarth.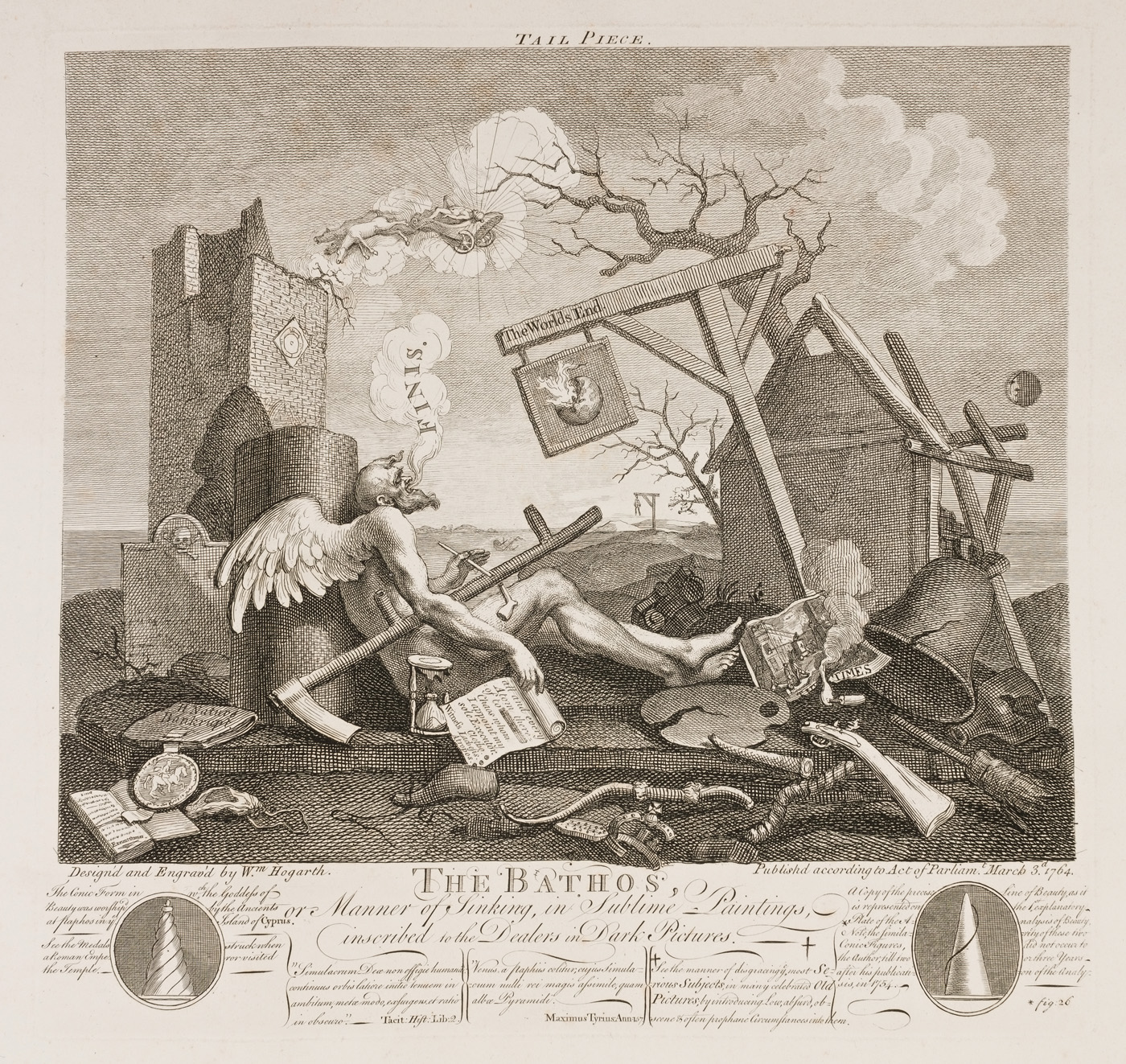 Finis, on The Bathos (HD download)
The last year of Hogarth's life was principally employed in re-touching his Plates, with the assistance of several Artists whom he took with him to Chiswick; and, as if he foresaw the close of his labours, a few months before he was seized with the malady which deprived society of one of its greatest ornaments, he proposed to his matchless pencil the work he has intituled "Finis, or the Tail-piece; the Bathos, or manner of sinking in Sublime Painting; inscribed to the Dealers in Dark Pictures: Designed and executed by W. Hogarth, published March 3, 1764." The first idea of this subject is said to have been started in company, whilst the convivial glass was circulating round his own table. "My next undertaking," says Hogarth, "shall be the End of all Things." "If that is the case," replied one of his friends, "your business will be finished; for there will be an end of the Painter." "There will so," answered Hogarth, sighing heavily; "and therefore the sooner my work is done the better." Accordingly he began the next day, and continued his design with a diligence which seemed to indicate an apprehension (as the report goes) that he should not live till he had completed it. This, however, he did in the most ingenious manner, by grouping every thing which could denote the end of all things — a broken bottle — an old broom worn to the stump — the butt-end of an old musket — a cracked bell — bow unstrung — a crown tumbled in pieces — towers in ruins — the sign-post of a tavern, called the World's End, tumbling — the moon in her wane — the map of the globe burning — a gibbet falling, the body gone, and the chain which held it dropping down — Phoebus and his horses dead in the clouds — a vessel wrecked — Time, with his hour-glass and scythe broken, a tobacco-pipe in his mouth, the last whiff of smoke going out — a play-book opened, with Exeunt Omnes stamped in the corner — an empty purse — and a statute of bankruptcy taken out against Nature — "So far so good," cried Hogarth; "nothing remains but this," —taking his pencil in a sort of prophetic fury, and dashing off the similitude of a Painter's pallet broken — "Finis," exclaimed Hogarth, "the deed is done — all is over." It is remarkable, that he died in about a month after this Tail-piece was finished. It is also well known he never again took the pencil in hand.
The several Inscriptions engraved on the Plate are appropriately selected.