William Hogarth - «Captain Thomas Coram»
Publié
par

Clifford Armion
le
20/06/2013
Reproduction commentée de l'oeuvre ((Captain Thomas Coram)) du graveur anglais William Hogarth.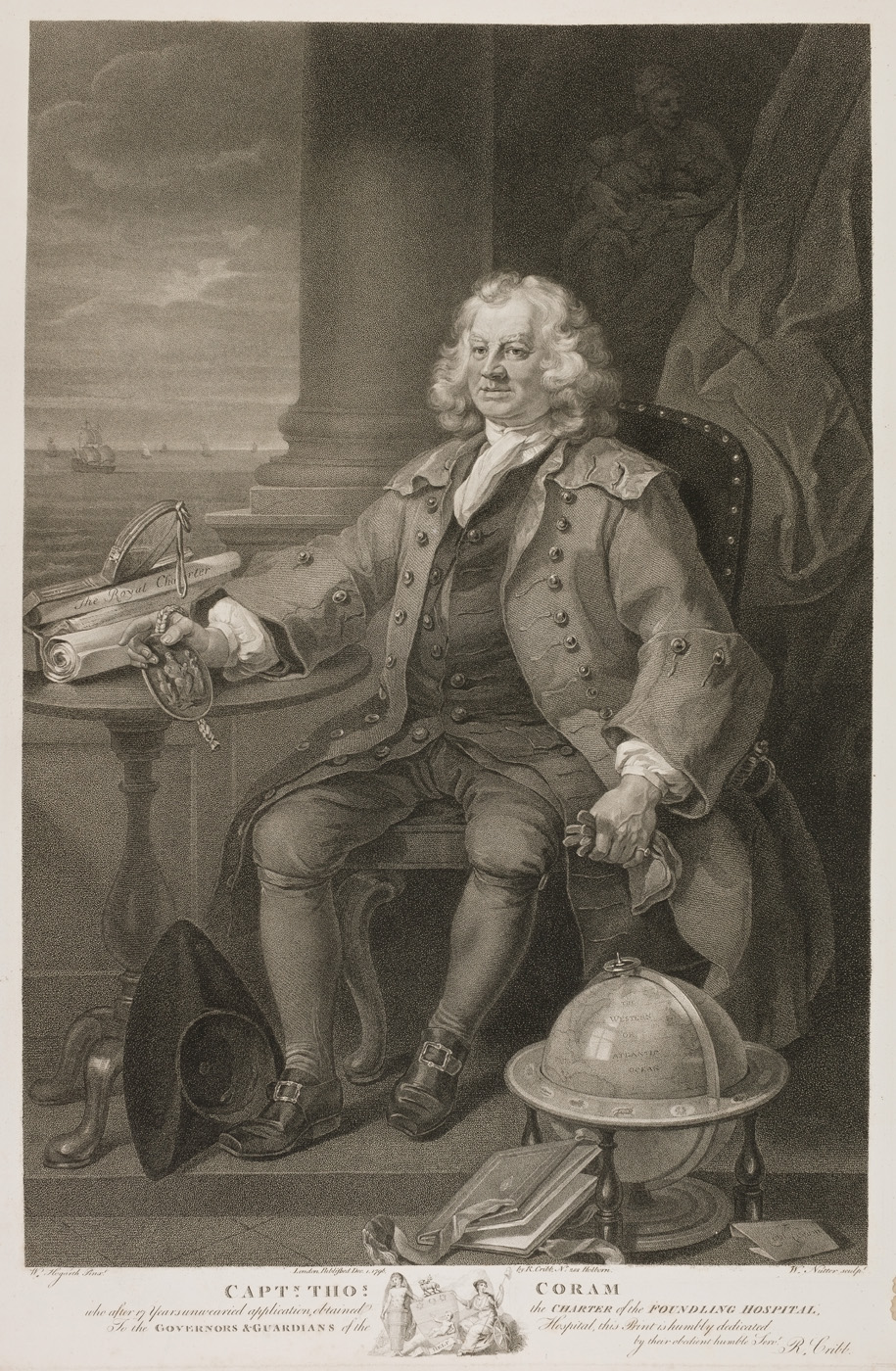 Captain Thomas Coram (HD download)

This Gentleman was born in 1668; bred to the sea, and passed the first part of his life as master of a vessel trading to the Colonies. While he resided in the vicinity of Rotherhithe, his avocations obliging him to go early into the City and return late, he frequently saw deserted infants exposed to the inclemency of the seasons, and, through the indigence or cruelty of their parents, left to casual relief, or untimely death. This naturally excited his compassion, and led him to project the establishment of an Hospital for the reception of exposed and deserted young children: in which humane design he laboured more than seventeen years; and at last, by his unwearied application, obtained the Royal Charter, bearing date October 17, 1739, for its incorporation.
He was highly instrumental in promoting another good design, the procuring of a bounty upon naval stores imported from the Colonies to Georgia and Nova Scotia. But the charitable plan which he lived to make some progress in, though not to complete, was a scheme for uniting the Indians in North America more closely with the British Government, by an establishment for the education of Indian girls. Indeed he spent a great part of his life in serving the publick, and with so total a disregard to his private interest, that in his old age he was himself supported by a pension of some- what more than £.100 a year, raised for him, at the solicitation of Sir Sampson Gideon and Dr. Brocklesby, by the voluntary subscriptions of public-spirited persons, at the head of whom was Frederick Prince of Wales. On application being made to this venerable and good old man, to know whether such a subscription would not offend him, he gave this noble answer: "I have not wasted the little wealth of which I was formerly possessed in self-indulgence, or vain expences; and am not ashamed to confess that in this my old age I am poor." This singularly humane, persevering, and memorable man, died March 29, 1751, and was interred, pursuant to his own desire, in the vault under the chapel of the Foundling Hospital; where a long and appropriate epitaph records his virtues, as Hogarth's Portrait has well preserved his honest countenance.