William Hogarth - «The Beggars' Opera»
Publié
par

Clifford Armion
le
21/12/2012
Reproduction commentée de l'oeuvre ((The Beggars' Opera)) du graveur anglais William Hogarth.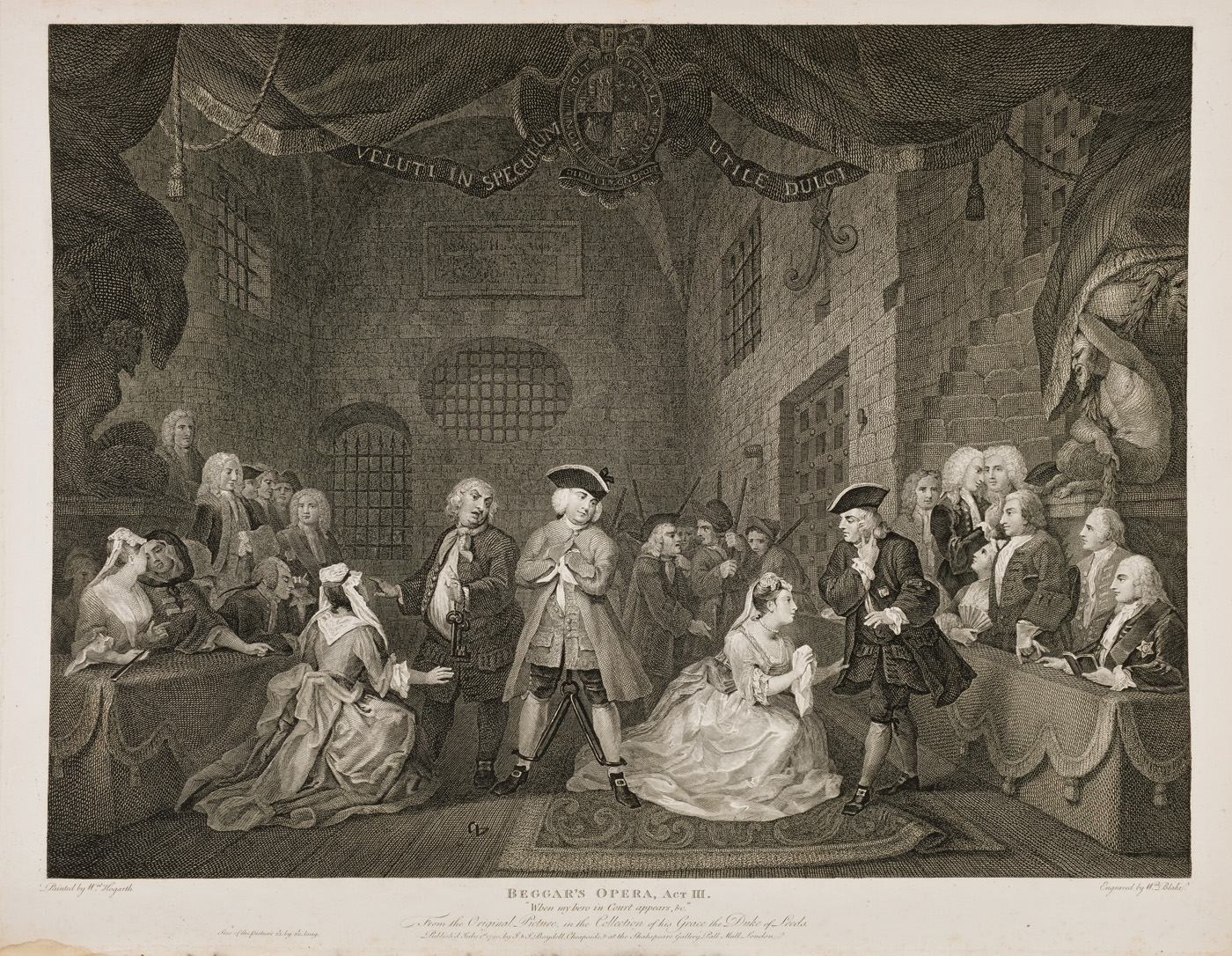 The Beggars' Opera (HD download)
This fine Picture is taken from the Third Act of Gay's well-known popular performance. The scene is laid in Newgate; and the point of time seems to be about the 53d, 54th, and 55th airs.
In addition to the value of this Picture, as containing a large collection of genuine Portraits, it has the only known representation of the inside of Lincoln's Inn Fields Theatre. The exterior is still entire, and is now occupied as Spode's Staffordshire Pottery Warehouse.
Mr. John Ireland has well observed, that the characters in this Print display what was then called "the dignified manners of the old school." The part of the Hero of the Play having been originally cast for Quin, intimates the style in which it was thought characteristic to play it; and Walker was praised for performing it "with dignity."
The Performers here represented were: 1. Macheath, Mr. Walker; 2. Lockit, Mr. Hall; 3. Peachum, Mr. Hippesley; 4. Filch, Mr. Clarke; 5. Lucy, Mrs. Egleton; 6. Polly, Miss Fenton, afterwards Duchess of Bolton.
The Audience: 7. The Duke of Bolton; 8. Major Pounceford; 9. Sir Robert Fagg; 10. Mr. Rich, the Manager; 11. Mr. Cock, the Auctioneer; 12. Mr. Gay, 13. Lady Jane Cook; 14. Anthony Henley, Esq.; 15. Lord Gage; 16. Sir Conyers D'Arcy; and 17. Sir Thomas Robinson.
On this subject Hogarth finished at least three large Paintings. That from which the Plate here given is copied was made for Mr. Rich, of Covent Garden Theatre; at the sale of whose effects, in 1762, it was purchased for £32. 14s. by Thomas, fourth Duke of Leeds; and is now (1820) in the collection of the present noble Duke.