William Hogarth - «Taste in High Life»
Publié
par

Clifford Armion
le
25/06/2013
Reproduction commentée de l'oeuvre ((Taste in High Life)) du graveur anglais William Hogarth.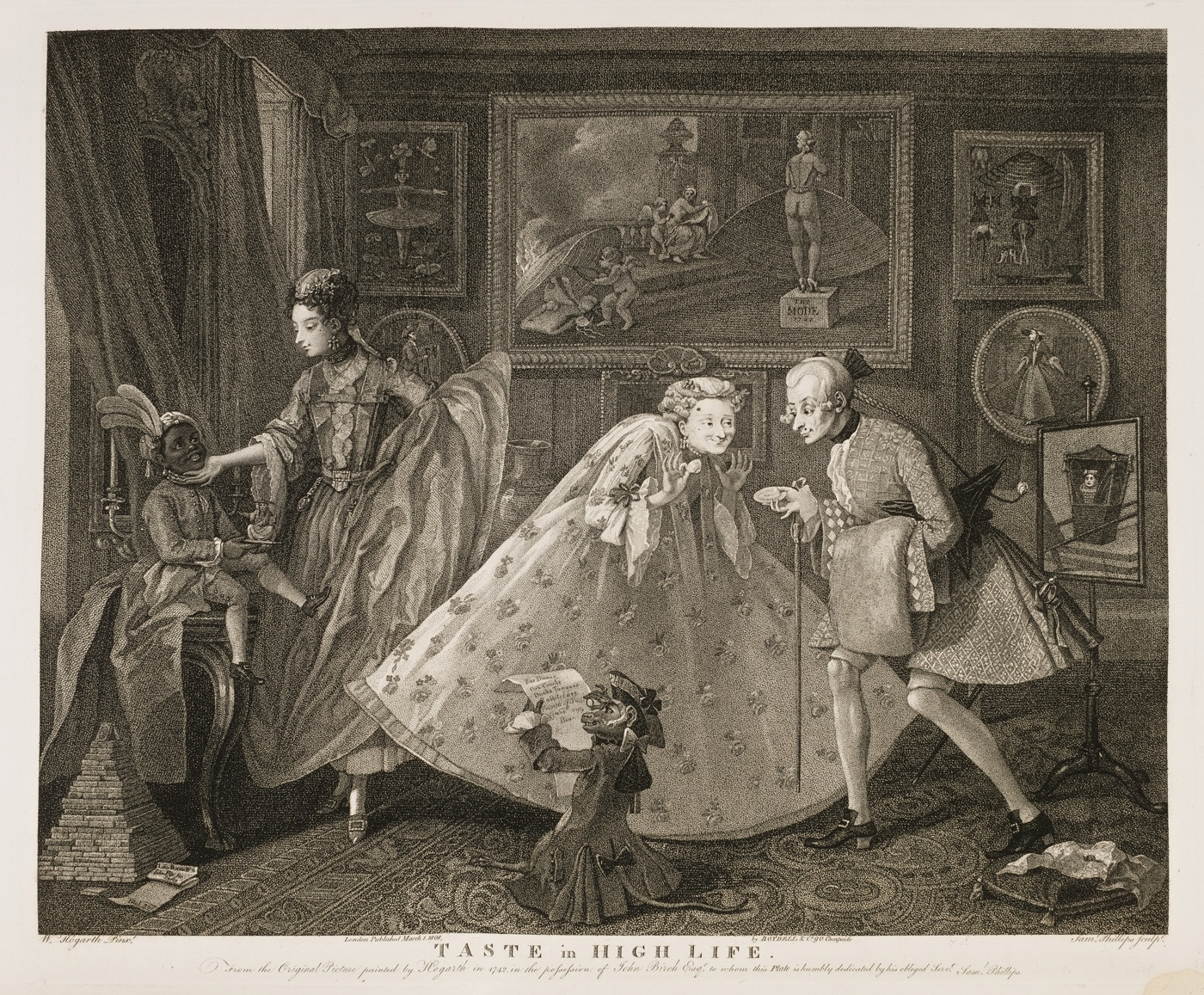 Taste in High Life (HD download)
This satirical Picture displays (as we learn from an inscription on the pedestal under a Venus dressed in a hoop-petticoat) the reigning modes of the year 1742. It was painted for the opulent Miss Edwards, of Kensington, who paid our Artist sixty guineas for it. Her reason for choosing such a subject was rather whimsical. By her own singularities having incurred some ridicule, she was desirous, by the assistance of Hogarth, to recriminate on the publick. As he designed after her ideas, he had little kindness for his performance, and never would permit a Print to be taken from it.
The Painter has brought into one group an old Beau and an old Lady of the Chesterfield school, a fashionable young Courtezan, the Kitty Fisher of her time, a little Black Boy, and a full-dressed Monkey. The ridicule on the folly of collecting old china, on cookery, card-playing, &c. are alike circumstances happily introduced, and explanatory of the fashions then in vogue. The old Lady, with a most affected air, poises between her finger and thumb a small tea-cup, with the beauties of which she appears to be highly enamoured. The Gentleman, gazing with vacant wonder at that, and the companion saucer which he holds in his hand, joins in admiration of its astonishing beauties! This Gentleman is said to be intended for Lord Portmore, in the habit he first appeared at Court on his return from France. The cane dangling from his wrist, large muff, long queue, black stock, feathered chapeau, and shoes, give him the air of
"An old and finished Fop,
"All cork at heel, and feather all at top."
The old Lady's habit, formed of stiff brocade, gives her the appearance of a squat pyramid, with a grotesque head at the top of it. The young one is fondling a little Boy, who on his part is playing with a petite pagoda. This miniature Othello has been said to be intended for the late Ignatius Sancho, whose talents and virtues were an ornament to his colour. At the time the Picture was painted he would have been rather older than the figure, but, as he was then honoured by the partiality and protection of the family of the Duke of Montagu, the Painter might possibly mean to delineate what his figure had been a few years before.
The little Monkey, with a magnifying glass, bag-wig, solitaire, laced hat, and ruffles, is eagerly inspecting a Bill of Fare, with the following articles pour diner; cocks combs, ducks tongues, rabbits ears, fricasey of snails, &c. &c.
In the centre of the room is a capacious china jar; in one corner a tremendous pyramid, composed of packs of cards, and on the floor close to them, a bill inscribed, "Lady Basto, Dr. to John Pip, for cards,—£.300."
The room is ornamented with several Pictures; the principal represents the Medicean Venus, on a pedestal, in stays and high-heeled shoes, and holding before her a hoop petticoat, somewhat larger than a fig-leaf; a Cupid paring down a fat Lady to a thin proportion; and another Cupid blowing up a fire to burn a hoop petticoat, muff, bag, and queue wig, &c.
On the dexter side is another Picture, representing Monsieur Desnoyer, operatically habited, dancing in a grand ballet, and surrounded by butterflies, &c. inscribed Insects, and evidently of the same genus with this Deity of Dance.
On the sinister, is a drawing, denominated Exotics, consisting of queue and bag-wigs, muffs, solitaires, petticoats, French heeled shoes, and other fantastic fripperies. Beneath this is a Lady in a pyramidical habit walking in the Park; and, as the companion Picture, we have a blind man walking the streets. The fire-screen is adorned with a drawing of a lady in a sedan-chair.
As Hogarth made this design from the ideas of Miss Edwards, it has been said that he had no great partiality for his own performance, and that, as he never would consent to its being engraved, the drawing from which a Print appeared about 1742, was made by the connivance of one of her Servants. After the death of Miss Edwards, the Painting was bought by the father of the late John Birch, Esq. Surgeon, of Spring Gardens; and in 1798, the fine Engraving now before the Reader was made from it by Mr. Samuel Philipps. This Plate was afterwards purchased by Messrs. Boydell, and re-published with the date altered to "1808."