William Hogarth - «Simon Lord Lovat»
Publié
par

Clifford Armion
le
06/05/2013
Reproduction commentée de l'oeuvre ((Simon Lord Lovat)) du graveur anglais William Hogarth.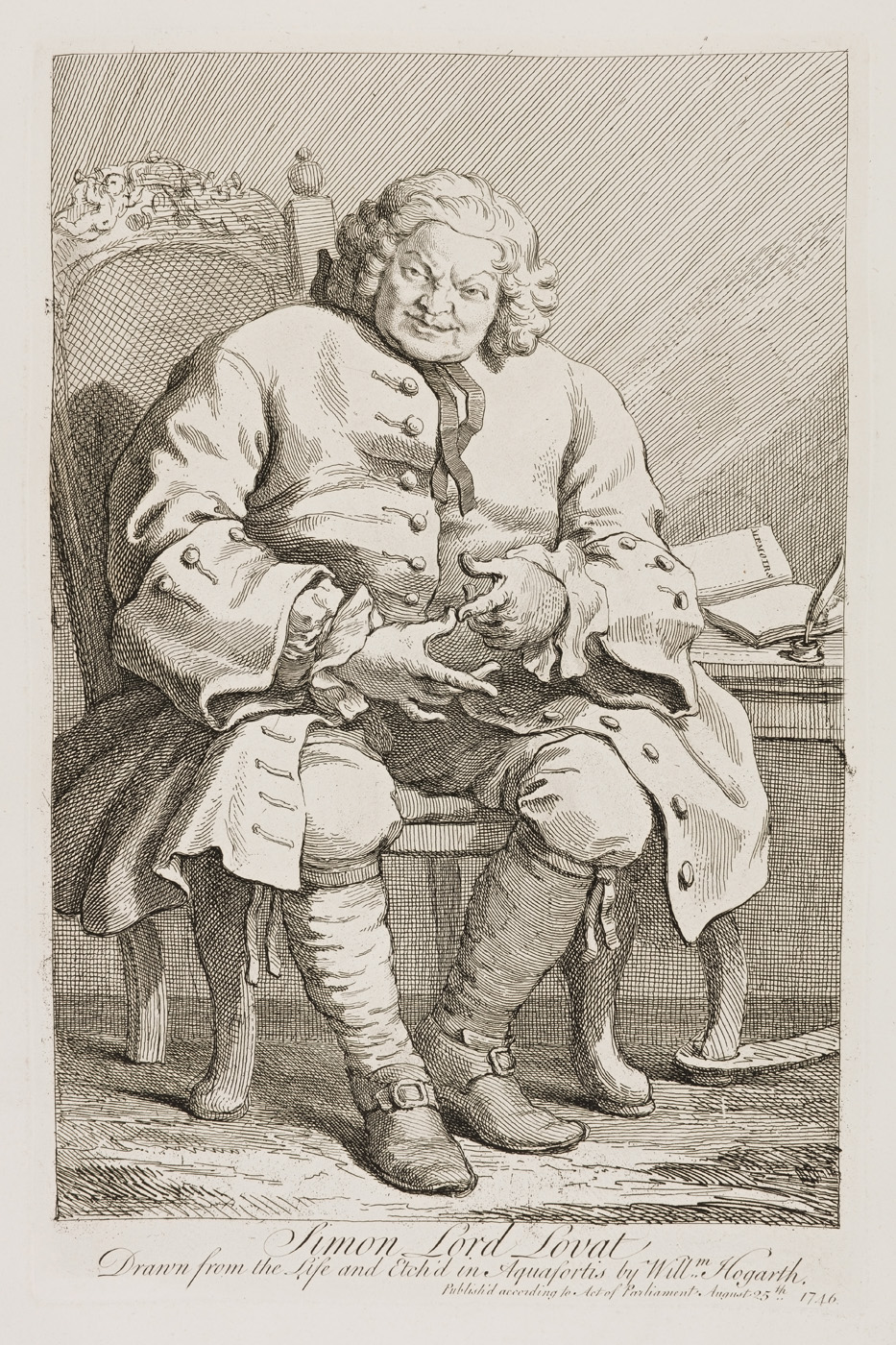 Simon Lord Lovat (HD download)
This venerable Nobleman was born in 1667. His father was the twenty-second person who had enjoyed the title of Lovat in lineal descent; and his mother was Dame Sybella Macleod, daughter of the Chief of the Clan of the Macleods, so famous for its loyalty to its Princes. Lord Lovat, it will be recollected, paid the forfeit of his life for his attachment to the exiled Family of Stuart. The Portrait of him here given was drawn by Hogarth in 1746, at the White Hart Inn in St. Albans, where Lord Lovat rested in his wav to Town from Scotland. Our Artist, who was invited thither by Dr. Webster, a Physician of that place, for the express purpose of being introduced to his Lordship, had never seen him before, and was, through the Doctor's introduction, received with much cordiality, even to the kiss fraternal, which was perhaps not very pleasant at that moment, as Lord Lovat was then under the Barber's hands. His Lordship rested two or three days at St. Alban's, and was under the immediate care of Dr. Webster; who seemed to think his Patient's illness was more feigned than real, and arose principally from his apprehension of danger on reaching London.
Hogarth said himself, "that this Portrait was taken in the attitude of relating on his fingers the numbers of the Rebel forces —'Such a General had so many men, &c.'; " and remarked, "that the muscles of Lord Lovat's neck appeared of unusual strength, more so than he had ever seen."
When the Plate was finished, a Printseller offered its weight in gold for it. The impressions could not be taken off so fast as they were wanted, though the rolling-press was at work all night for a week together. For several weeks afterwards he is said to have received at the rate of twelve pounds a day.
"This powerful Laird," it has been observed by Mr. King, in his Observations on Antient Castles, "was one of the last Chieftains that preserved the rude manners and barbarous authority of the early feudal ages. He resided in a house which would be esteemed but an indifferent one for a very private plain Country Gentleman in England; as it had, properly, only four rooms on a floor, and those not large, Here, however, he kept a sort of Court, and several public tables; and had a very numerous body of retainers always attending. His own constant residence, and the place where he received company, even at dinner, was in the very room where he lodged; his Lady's sole apartment was her bedroom; and the only provision for the lodging of the servants and retainers was a quantity of straw, which they spread every night on the floors of the lower rooms, where the whole inferior part of the family, consisting of a very great number of persons, took up their abode."
Sir William Young, one of the Managers appointed by the Commons of Great Britain for conducting the prosecution against this Nobleman for High Treason, made the following strong observations: "Your Lordships have already done National justice on some of the principal Traitors, who appeared in open arms against his Majesty, by the ordinary course of Law; but this noble Lord, who, in the whole course of his life, has boasted of his superior cunning in wickedness, and his ability to commit frequent treasons with impunity, vainly imagined that he might possibly be a Traitor in private, and Rebel only in his heart, by sending his Son and his followers to join the Pretender, and remainin at home himself to endeavour to deceive his Majesty's faithful subjects; hoping he might be rewarded for his Son's services, if successful, or his Son alone be the sufferer for his offences, if the undertaking failed. — Diabolical cruelty! atrocious impiety!"
His conduct, however, previous to execution, was manly and spirited. When advised by his friends to throw himself at his Majesty's feet and petition for mercy, he absolutely refused, saying, "that he was old and infirm, and his life not worth asking for."