William Hogarth - «Royalty, Episcopacy, and Law»
Publié
par

Clifford Armion
le
27/11/2012
Reproduction commentée de l'oeuvre ((Royalty, Episcopacy, and Law)) du graveur anglais William Hogarth.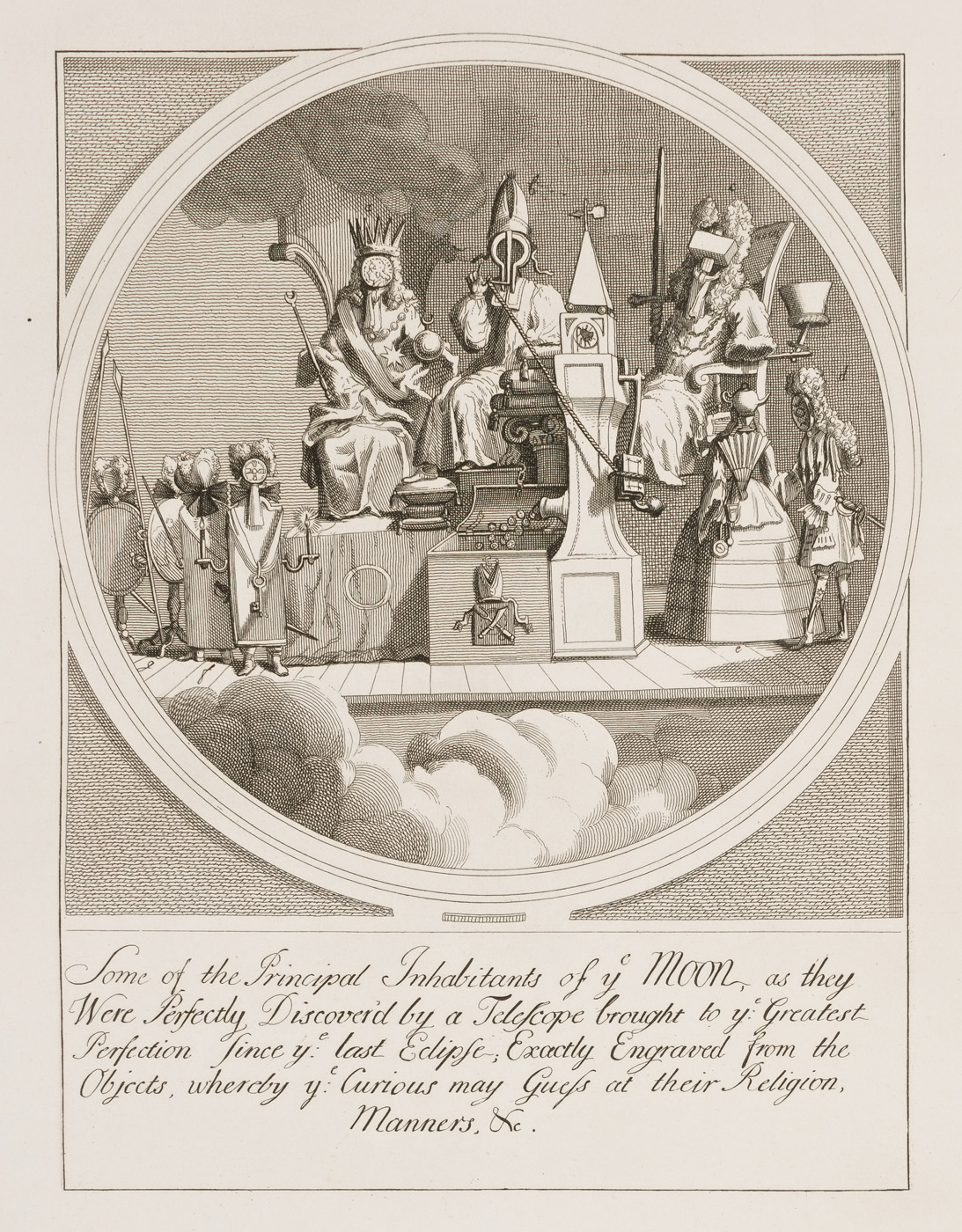 Royalty, Episcopacy, and Law (HD download)
This severe Satire, first published in 1724, is thus illustrated by Mr. Samuel Ireland:
"The scene is supposed to be in the Clouds, where, on a platform, the principal characters are seated.
"The head of the Monarch is either a crown-piece or a guinea. The collar of Esses is ludicrously changed to a string of bubbles; his breast is decorated with a pointed star; and on the top of the globe and sceptre is a crescent, alluding to his lunar situation. Beneath his throne is a circle, perhaps intended as an emblem of Perpetuity.
"The Satire on Episcopacy is still more strongly pointed. The face of the Bishop is formed of a Jew's harp, which may probably allude to his religious tenets having arisen out of the doctrines of Judaism. He is pulling a bell-rope that is fastened to the Bible, which serves as a lever, to act upon a machine, the lower part of which is a mill, but the upper part a steeple, having a vane at the top of it; and a bell, plainly seen in the act of ringing, or working: intimating that, by this instrument, he works out of the Church those good things, without which he would set little value upon his spiritualities; this treasure falls into a coffer, sarcastically marked as his own by the armorial bearings, a knife and fork, with the mitre added as a crest. Beneath the Episcopal robe peeps a cloven foot; and, if we may judge by the weather-cock, the motion of the pump is in some degree actuated upon by the King, in whose quarter the wind seems to set.
"The head of Law appears to be made of a large mallet, or wedge. To this metaphor we can give no explanation: nor is the enormous size of the sword, which seems to betray more than common justice, an allusion so clearly understood as some other parts of the design.
"The composition of the Courtiers who attend Monarchy, &c. is well conceived, and marks the contempt our Artist entertained for the danglers in that situation. By the letters that appear marked in several parts of this Print, it may be presumed that a full explanation of it was intended to have been given."