William Hogarth - «Rich's Triumphant Entry»
Publié
par

Clifford Armion
le
15/02/2013
Reproduction commentée de l'oeuvre ((Rich's Triumphant Entry)) du graveur anglais William Hogarth.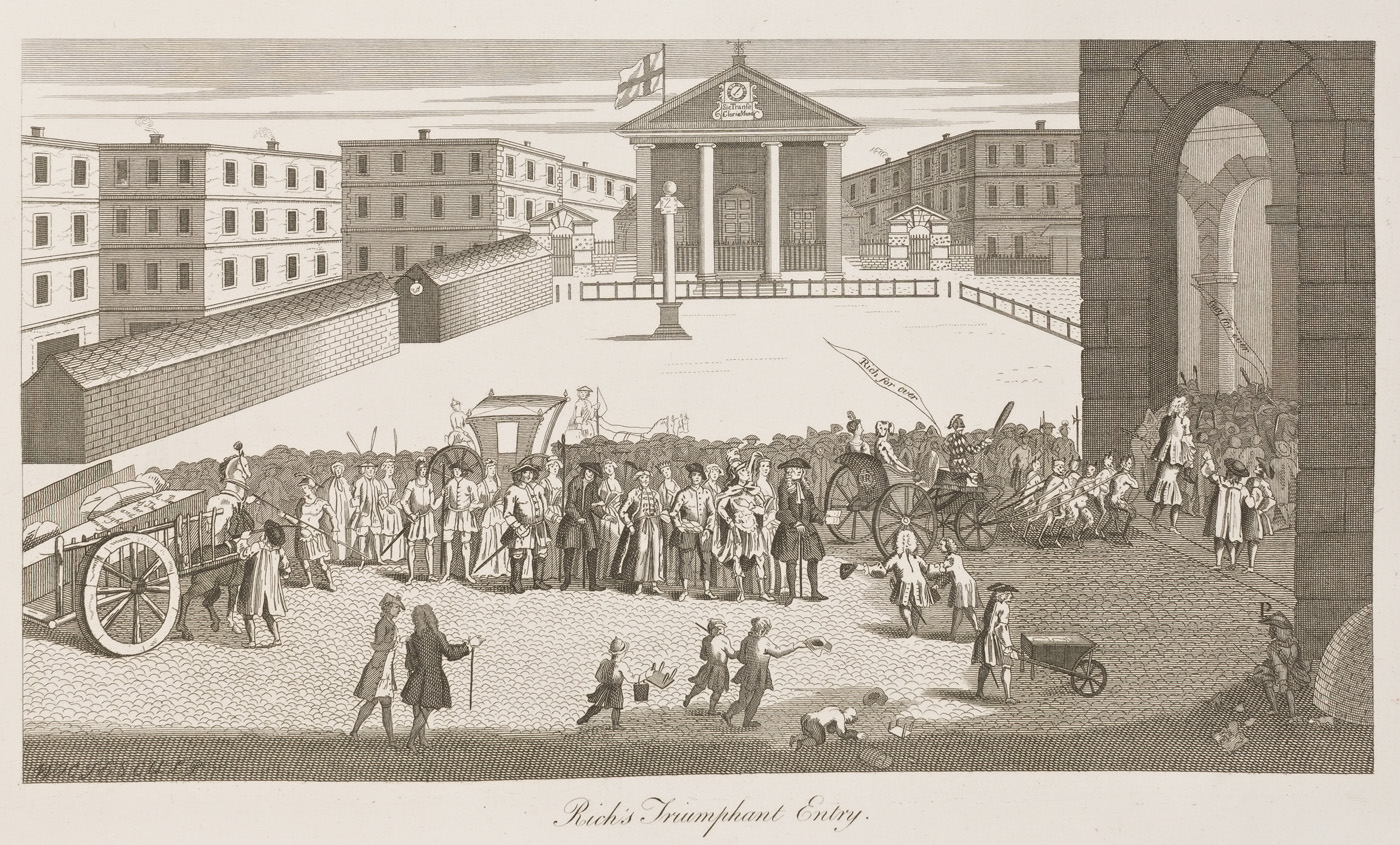 Rich's Triumphant Entry (HD download)
This Plate represents the removal of Rich, and his Scenery, Authors, Actors, &c. from Lincoln's Inn Fields, to the new House. The Scene is the Area of Covent Garden, across which, leading toward the door of the Theatre, is a long procession, consisting of a cart loaded with thunder and lightning, Performers, &c.; and at the head of them Mr. Rich (invested with the skin of the famous Dog in "Perseus and Andromeda") riding with his Mistress in a chariot driven by Harlequin, and drawn by Satyrs.
Some indifferent verses, which accompanied the original publication, allude to Walker and Hall, the original Macheath and Lockit, and conclude thus —
"To the Piazza let us turn our eyes,
See Johnny Gay on Porters' shoulders rise,
Whilst a bright Man of Taste his works despise.
Another Author wheels his work with care,
In hopes to get a market at this fair,
For such a day he sees not every year."
By the Man of Taste, Mr. Pope was apparently designed. He is represented in his tie-wig, at a dark corner of the Piazza, amusing himself (not very delicately) with the "Beggar's Opera." The letter P is over his head; his little sword is significantly placed, and the peculiarity of his figure is well preserved. The reason why our Artist has assigned such an employment to him, we can only guess. It seems, indeed, from Dr. Johnson's Life of Gay, that Pope did not think the "Beggar's Opera" would succeed. Swift, however, was of the same opinion; and yet the former supported the piece on the first night of exhibition, and the latter defended it in his "Intelligencer" against the attacks of Dr. Herring, then Preacher to the Society of Lincoln's Inn, and afterwards Archbishop of Canterbury. Hogarth might be wanton in his satire, might have founded it on an idle report, or might have sacrificed truth to the prejudice of Sir James Thornhill, whose quarrel on another occasion he is supposed to have taken up, when he ridiculed the Translator of Homer, in a view of "The Gate of Burlington House."