William Hogarth - «Garrick in King Richard III»
Publié
par

Clifford Armion
le
06/05/2013
Reproduction commentée de l'oeuvre ((Garrick in King Richard III)) du graveur anglais William Hogarth.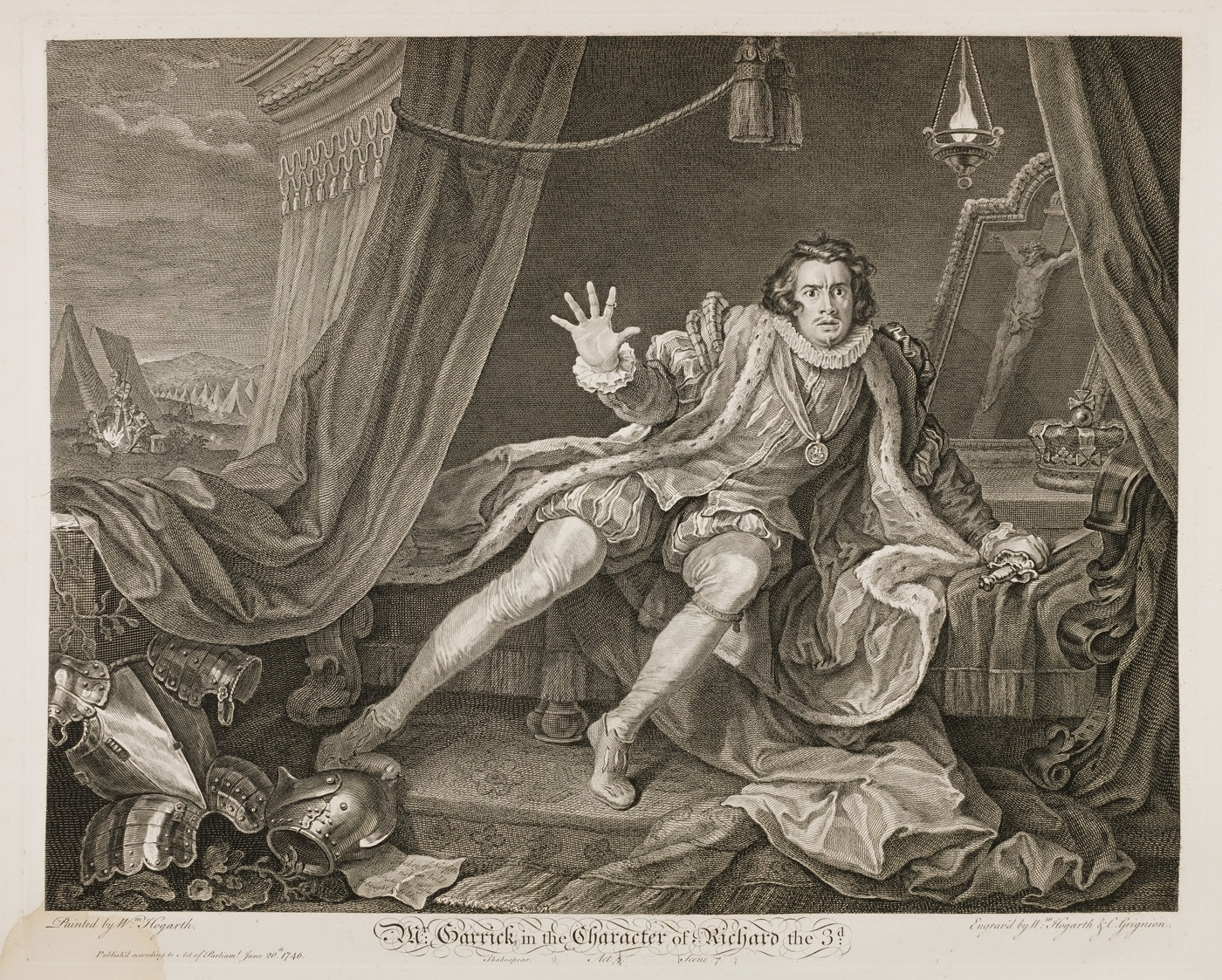 Garrick in King Richard III (HD download)
In the Tent Scene, one of the most interesting in this noble Drama, our matchless Tragedian is admirably delineated; the expression of the countenance is happily hit off, but the figure is too large and muscular. It has been well remarked by a judicious Critic, the late Rev. Henry Headley, that "Hogarth has represented the ring of the Tyrant as having started beyond the joint of his finger with the violent agitation of his frame. The incident is such as a man of genius only could have conceived, though many look at the Picture without attending to the sublimity of it."
Mr. Charles Grignion (whose professional talents were for more than half a century an honour to the Arts) informed Mr. John Ireland, that Hogarth etched the head and hand; but, finding the head too large, he erased it, and etched it a second time; when seeing it wrong placed upon the shoulders, he again rubbed it out, and re-placed it as it now stands, remarking, "I never was right until I had been wrong."
This Print was afterwards, by Hogarth's permission, copied for a watch-paper.
The late Mr. Duncombe, of Duncombe Park, in Yorkshire, gave £.200 for the original Picture, which is now in the possession of his family.
Mr. Walpole remarks, "that Mr. Hogarth designed for his friend Garrick, as President of the Shakespeare Club, a mahogany chair, richly carved; on the back of which hangs a model of the Poet, carved by Hogarth out of the mulberry-tree planted at Stratford by Shakespeare." This chair now stands in the Pavilion at Hampton, in the grounds of Mrs. Garrick, who, at a period of life when infirmities might naturally be expected, still possesses the power of delighting by the brilliancy of her conversation, which unites the experience of age with the liveliest sallies of youth.
The Receipt to the Subscribers for this admirable Print was given on a small Plate, representing a mask, a roll of paper, a palette, and a laurel.