William Hogarth - «France»
Publié
par

Clifford Armion
le
13/06/2013
Reproduction commentée de l'oeuvre ((France)) du graveur anglais William Hogarth.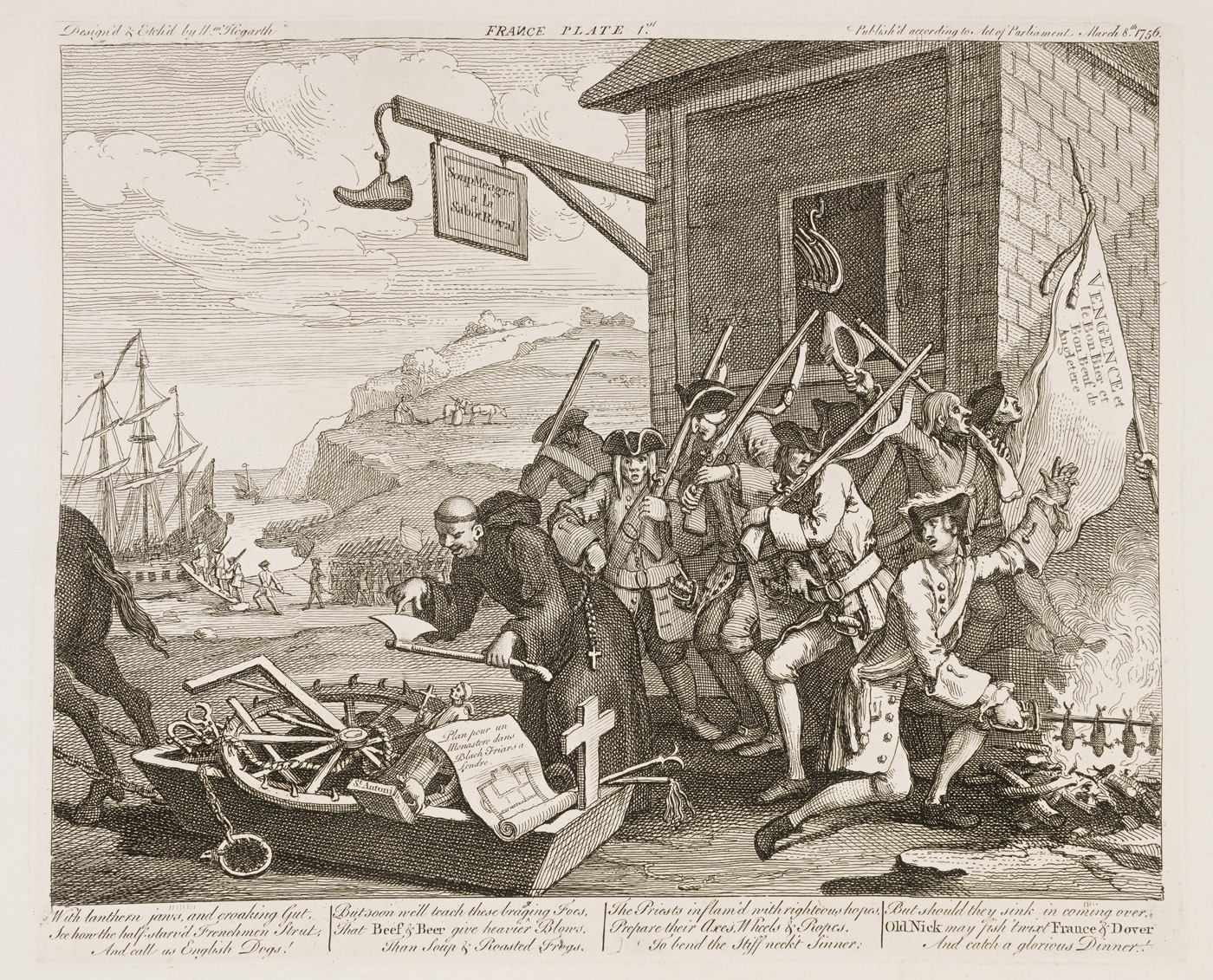 This Print and its Companion were published in 1756, when a War had broken out between England and France; and Hogarth having quitted his own Country, seems to think himself out of the reach of the Critics, and, in delineating a Frenchman, at liberty to depart from Nature, and sport in the fairy regions of Caricature.
This scene represents an Embarkation of French Troops, to invade England: but so little are the Troops disposed to go on this hazardous expedition, that the Serjeant is obliged to goad them on with his halbert! The meagre appearance of the Troops is very broadly accounted for by their unsubstantial diet. The fore-ground of this Plate exhibits a small Public-house, whose sign is a Wooden Shoe, with the inscription "Soup maigre à la Sabot royal" In the larder, such as it is, some bones of beef (void of flesh) are suspended, and an Officer is in the very humble employment of roasting a number of frogs, which he has spitted on his sword. Close by him is the Royal Standard of France, which has the following inscription in large letters: "Vengeance, avec le bon Bier et bon Beuf d'Angleterre." This seems to excite a momentary joy in the countenances of some of the Soldiers, who apparently are devouring by anticipation our substantial British fare. But, though the Military do not in general relish this expedition, the Priest before us seems to enjoy much gratification in the prospect of compelling the Hereticks to return into the bosom of the Church. The scroll in the sledge contains a plan for a Monastery to be erected at Blackfriars; and, in the same vehicle he has already deposited an image of St. Anthony accompanied by his pig, a gibbet, scourges, wheels, and other instruments of torture, and is in the act of adding to them an axe, the sharpness of whose edge he is trying with his fingers. These are designed for the establishment of a British Inquisition.
In the back-ground, to intimate that Agriculture must suffer by the Invasion having taken away all the Men, two Women are introduced ploughing up a barren Promontory.