William Hogarth - «Examination of Bambridge»
Publié
par

Clifford Armion
le
21/01/2013
Reproduction commentée de l'oeuvre ((Examination of Bambridge)) du graveur anglais William Hogarth.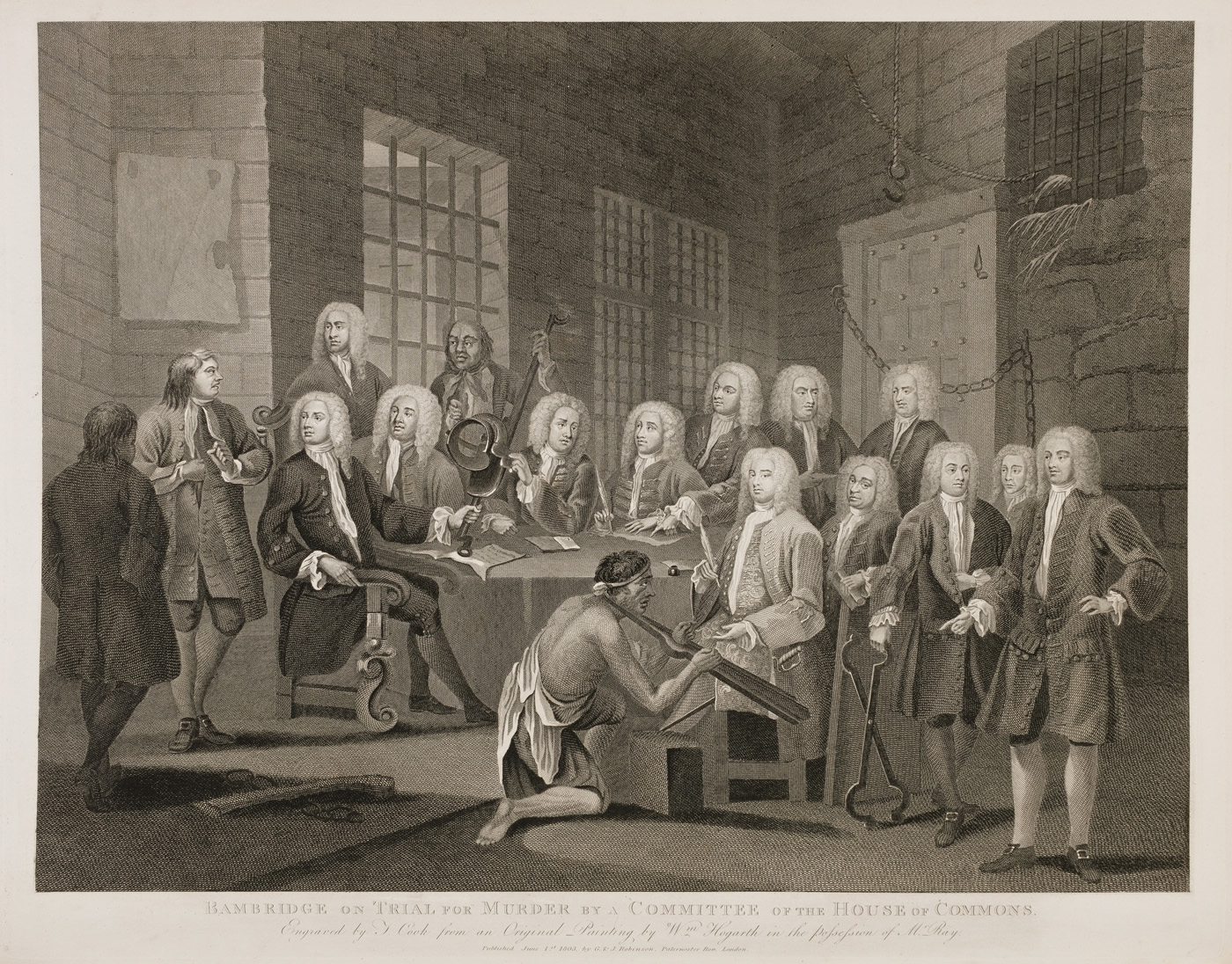 Examination of Bambridge (HD download)
This very fine Picture, Hogarth himself tells us, was painted in 1729 for Sir Archibald Grant, of Monnymusk, Bart. at that time Knight of the Shire for Aberdeen, and one of the Committee represented in the Painting; many of whom attended daily, and some of them twice a day.
That every other Figure in this Print is a genuine Portrait there cannot be the least doubt; though at this distant period it is not possible to identify the particular persons : they are all, however, to be found in the following list of the names of the Committee.
James Oglethorpe, Esq. Chairman.
The Right Hon. the Lords :
Finch.
Morpeth.
Inchequin.
Percival.
Limerick.


Sir Robert Sutton.
Sir Robert Clifton.
Sir Abraham Elton.
Sir Edward Knatchbull.
Sir Humphrey Herries.
Hon. James Bertie.
Sir Gregory Page.
Sir Archibald Grant.
Sir James Thornhill.

Gyles Earle, Esq.
General Wade.
Humphrey Parsons, Esq.
Hon. Robert Byng.
Edward Houghton, Esq.
Judge Advocate.
Captain Vernon.
Charles Selwyn, Esq.
Velters Cornwall, Esq.
Thomas Scawen, Esq.
Francis Child, Esq.
William Hucks, Esq.
Stampe Brooksbank, Esq.
Charles Withers, Esq.
John La Roche, Esq.
Mr. Thomas Martin.
"The scene," says Mr. Walpole, "is the Committee. On the table are the instruments of torture. A prisoner in rags, half-starved, appears before them; the poor man has a good countenance, that adds to the interest. On the other hand is the inhuman Gaoler. It is the very figure that Salvator Rosa would have drawn for Iago in the moment of detection. Villainy, fear, and conscience, are mixed in yellow and livid on his countenance ; his lips are contracted by tremor, his face advances as eager to lie, his legs step back as thinking to make his escape ; one hand is thrust precipitately into his bosom, the fingers of the other are catching uncertainly at his button-holes. If this was a Portrait, it is the most striking that ever was drawn; if it was not, it is still finer."
This Committee was first appointed, Feb. 25, 1728-9, to examine into the state of the Gaols within the Kingdom ; and the persons here represented under examination were, Thomas Bambridge, then Warden of the Fleet Prison, and John Huggins, his predecessor in that office. Both were declared "notoriously guilty of great breaches of trust, extortions, cruelties, and other high crimes and misdemeanors."
It was the unanimous Resolution of the Committee "That Thomas Bambridge, the acting Warden of the Prison of the Fleet, hath wilfully permitted several Debtors to the Crown in great sums of money, as well as Debtors to divers of his Majesty's Subjects, to escape ; hath been guilty of the most notorious breaches of his trust, great extortions, and the highest crimes and misdemeanors, in the execution of his said office ; and hath arbitrarily and unlawfully loaded with irons, put into dungeons, and destroyed, Prisoners for Debt under his charge, treating them in the most barbarous and cruel manner, in high violation and contempt of the Laws of this Kingdom." Bambridge was in consequence disqualified by Act of Parliament ; and he cut his throat twenty years after.
It was also resolved, "That John Huggins, Esq. late Warden of the Prison of the Fleet, did, during the time of his Wardenship, wilfully permit several considerable Debtors in his custody to escape; and was notoriously guilty of great breaches of his trust, extortions, cruelties, and other high crimes and misdemeanors, in the execution of the said office;" and he was for some time committed to Newgate, but afterwards lived in credit to the age of 90.