William Hogarth - «Characters and Caricaturas»
Publié
par

Clifford Armion
le
19/04/2013
Reproduction commentée de l'oeuvre ((Characters and Caricaturas)) du graveur anglais William Hogarth.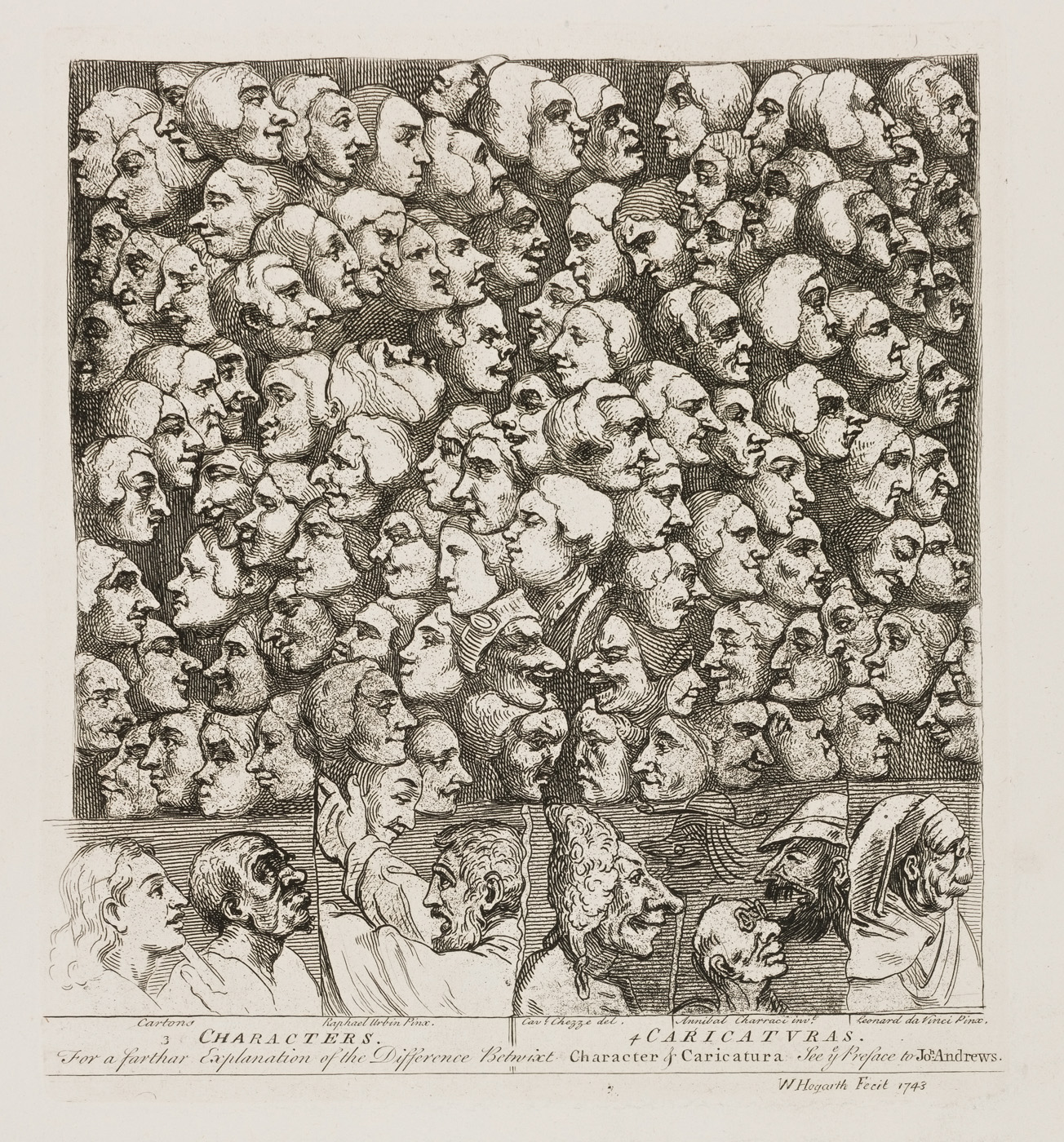 Characters and Caricaturas (HD download)
In this Plate, which was the Receipt for Marriage a la Mode, the heads of three figures from Raphael's Cartoons are introduced under the article Character, in opposition to the fantastic Caricatures of Cavalier Chezzi, Annibal Characci, and Lionardo Da Vinci; the last of whom one is sorry to see so classed; for to his anatomical knowledge the late Dr. Hunter gave the strongest testimony, by declaring his intention to publish a volume illustrated by the designs of this Artist, as anatomical studies. The three heads from Raphael, as etched by Hogarth, are sufficiently marked to determine the Masters from whence they are copied; but their grandeur, elevation, and simplicity, are totally evaporated. With Angels, Apostles, and Saints, he was not happy. In the group placed above them he has been more successful. Hogarth was less of a Mannerist than almost any other Artist; for, though there are above an hundred profiles, no copy from another Painter is to be discovered, no repetition of his own works: they are all delineated from Nature, and the most careless observer must discover many resemblances: to the Physiognomist they are an inexhaustible study.
On this Print Hogarth makes the following remark:
"Being perpetually plagued, from the mistakes made among the illiterate, by the similitude in the sound of the words Character and Caricatura, I ten years ago endeavoured to explain the distinction by the above Print; and, as I was then publishing Marriage a la Mode, wherein were characters of high life, I introduced the great number of faces there delineated (none of which are exaggerated) varied at random, to prevent, if possible, personal application when the Prints should come out:
'We neither this nor that Sir Fopling call,
He's Knight o' the Shire, and represents you all.'
This, however, did not prevent a likeness being found for each; for a general character will always bear some resemblance to a particular one."