William Hogarth - «Beggars' Opera Burlesqued»
Publié
par

Clifford Armion
le
21/12/2012
Reproduction commentée de l'oeuvre ((Beggars' Opera Burlesqued)) du graveur anglais William Hogarth.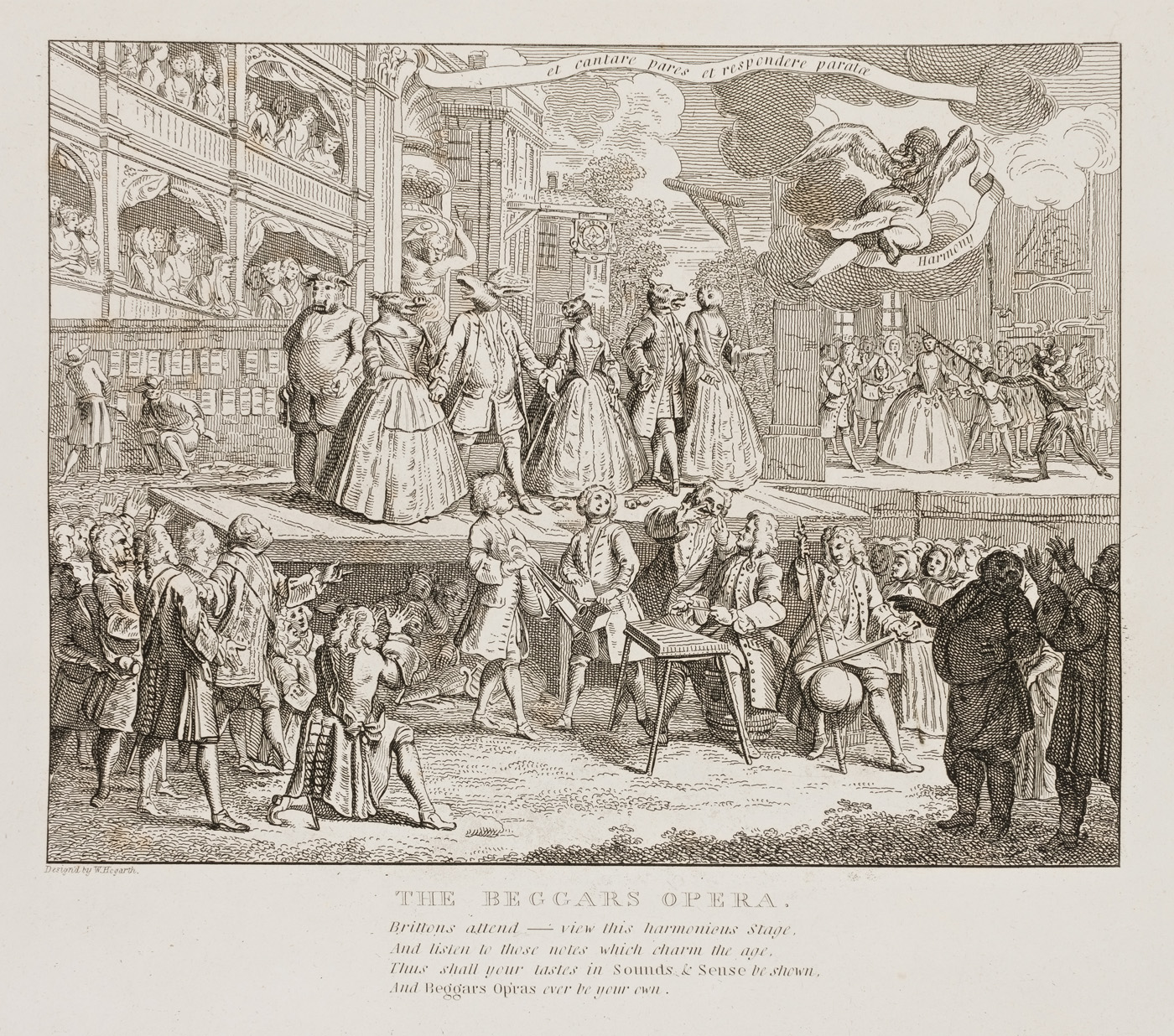 Beggars' Opera Burlesqued (HD download)
This Plate seems at once to represent the exhibition of "The Beggars' Opera," and the rehearsal of an Italian one.
In the former, all the characters are drawn with the heads of different animals : as Polly with a Cat's; Lucy with a Sow's; Macheath with that of an Ass; Lockit, and Mr. and Mrs. Peachum, with those of an Ox, a Dog, and an Owl.
In the latter, several Noblemen appear conducting the chief Female Singer forward on the Stage; and perhaps are offering her money, or protection from a figure that is rushing? towards her with a drawn sword.
Harmony, flying in the air, turns her back on the English Playhouse, and hastens towards the Rival Theatre. Musicians stand in front of the former, playing on the Jew's harp, the salt-box, the bladder and string, bagpipes, &c. On one side are people of distinction, some of whom kneel, as if making an offer to Polly, or paying their adorations to her. To these are opposed a butcher, &c. expressing similar applause.
Apollo and one of the Muses are fast asleep beneath the Stage. A man is indelicately seated under a wall hung with ballads, and shewing his contempt of such compositions, by the use he makes of them.
A sign of the Star, a gibbet, and some other circumstances less intelligible, appear in the back-ground.