Gulliver's Travels (Jonathan Swift)
Publié
par

Clifford Armion
le
21/11/2014
Travel books were very fashionable in the eighteenth century. Real travelers sometimes included elements of fiction in their accounts of their wanderings to make them sound more exotic and interesting. In Gulliver's Travels, Jonathan Swift makes fun of this literary genre by introducing a fictitious traveler, Gulliver, who tells us about his encounters with strange creatures and countries. Gulliver's first person narrative is introduced by a fake publisher's note which is also written in the first person...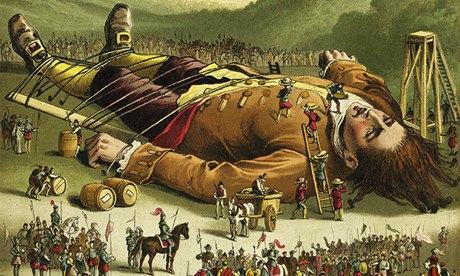 Colour print from an 1860s edition of Gulliver's Travels
THE PUBLISHER TO THE READER
As given in the original edition.
The author of these Travels, Mr. Lemuel Gulliver, is my ancient and intimate friend; there is likewise some relation between us on the mother's side. About three years ago, Mr. Gulliver growing weary of the concourse of curious people coming to him at his house in Redriff, made a small purchase of land, with a convenient house, near Newark, in Nottinghamshire, his native country; where he now lives retired, yet in good esteem among his neighbours.
Although Mr. Gulliver was born in Nottinghamshire, where his father dwelt, yet I have heard him say his family came from Oxfordshire; to confirm which, I have observed in the churchyard at Banbury in that county, several tombs and monuments of the Gullivers.
Before he quitted Redriff, he left the following papers in my hands, with the liberty to dispose of them as I should think fit. I have carefully perused them three times. The style is very plain and simple; and the only fault I find is, that the author, after the manner of travellers, is a little too circumstantial. There is an air of truth apparent through the whole; and indeed the author was so distinguished for his veracity, that it became a sort of proverb among his neighbours at Redriff, when any one affirmed a thing, to say, it was as true as if Mr. Gulliver had spoken it.
This volume would have been at least twice as large, if I had not made bold to strike out innumerable passages relating to the winds and tides, as well as to the variations and bearings in the several voyages, together with the minute descriptions of the management of the ship in storms, in the style of sailors; likewise the account of longitudes and latitudes; wherein I have reason to apprehend, that Mr. Gulliver may be a little dissatisfied. But I was resolved to fit the work as much as possible to the general capacity of readers. However, if my own ignorance in sea affairs shall have led me to commit some mistakes, I alone am answerable for them. And if any traveller hath a curiosity to see the whole work at large, as it came from the hands of the author, I will be ready to gratify him.
RICHARD SYMPSON
PART I. A VOYAGE TO LILLIPUT
CHAPTER I
My father had a small estate in Nottinghamshire: I was the third of five sons. He sent me to Emanuel College in Cambridge at fourteen years old, where I resided three years, and applied myself close to my studies; but the charge of maintaining me, although I had a very scanty allowance, being too great for a narrow fortune, I was bound apprentice to Mr. James Bates, an eminent surgeon in London, with whom I continued four years. My father now and then sending me small sums of money, I laid them out in learning navigation, and other parts of the mathematics, useful to those who intend to travel, as I always believed it would be, some time or other, my fortune to do. When I left Mr. Bates, I went down to my father: where, by the assistance of him and my uncle John, and some other relations, I got forty pounds, and a promise of thirty pounds a year to maintain me at Leyden: there I studied physic two years and seven months, knowing it would be useful in long voyages.
Soon after my return from Leyden, I was recommended by my good master, Mr. Bates, to be surgeon to the Swallow, Captain Abraham Pannel, commander; with whom I continued three years and a half, making a voyage or two into the Levant, and some other parts. When I came back I resolved to settle in London; to which Mr. Bates, my master, encouraged me, and by him I was recommended to several patients. I took part of a small house in the Old Jewry; and being advised to alter my condition, I married Mrs. Mary Burton, second daughter to Mr. Edmund Burton, hosier, in Newgate-street, with whom I received four hundred pounds for a portion.
But my good master Bates dying in two years after, and I having few friends, my business began to fail; for my conscience would not suffer me to imitate the bad practice of too many among my brethren. Having therefore consulted with my wife, and some of my acquaintance, I determined to go again to sea. I was surgeon successively in two ships, and made several voyages, for six years, to the East and West Indies, by which I got some addition to my fortune. My hours of leisure I spent in reading the best authors, ancient and modern, being always provided with a good number of books; and when I was ashore, in observing the manners and dispositions of the people, as well as learning their language; wherein I had a great facility, by the strength of my memory.
The last of these voyages not proving very fortunate, I grew weary of the sea, and intended to stay at home with my wife and family. I removed from the Old Jewry to Fetter Lane, and from there to Wapping, hoping to get business among the sailors; but it would not turn to account. After three years expectation that things would mend, I accepted an advantageous offer from Captain William Prichard, master of the Antelope, who was making a voyage to the South Sea. We set sail from Bristol, May 4, 1699, and our voyage was at first very prosperous...
Jonathan Swift, Gulliver's Travels, 1721
Key Questions
In the fake publisher's note to the reader, which elements are meant to make us believe in the seriousness of Gulliver's narrative?
Why is it significant that the publisher should sign his note and use the first person? What credit is added to the narration by this introductory text?
In the first chapter of A Voyage to Lilliput, why does Gulliver tell us about his childhood? What kind of book does such a first person narrative usually introduce?
Why does the narrator mention so many places, names and dates? What is the intended effect on the reader?
What suggests that the narrator's account of his travels will be precise and truthful?
Here are notions commonly associated to first person narratives : truthfulness, testimony, empathy, judgement. Choose one notion and explain why it is relevant to the extract under study.