A world war
Publié
par

Clifford Armion
le
08/11/2013
Cette page aborde l'engagement des territoires de l'Empire britannique, notamment le Canada et l'Inde, dans la Première Guerre Mondiale. Une tâche est ensuite proposée aux apprenants à partir des informations présentées.
Canada was a self-governing British dominion: it had its own elected Parliament and government but it was still dependent on Britain for some decisions, especially in foreign relations.
When Britain entered the war, Canada was automatically at war too. The news was met with enthusiasm in Canada. Most Canadians felt a strong connection to Britain (or France) and were eager to help. But there was a lot of work to do before Canada could help: it did not have a standing army and had to create one.
Over 600,000 men and women enlisted in the Canadian Expeditionary Force (CEF) during WWI. They were soldiers, nurses and chaplains. Enlistment was voluntary during the first three years of the war. In 1917, the dangerously low levels of voluntary recruitment lead to the passing of compulsory conscription. This led to a vigorous debate: many opposed conscription, including former Prime Minister Wilfrid Laurier.
How were Canada and the Canadians involved in the war? With what consequences?
Last Moments as Civilians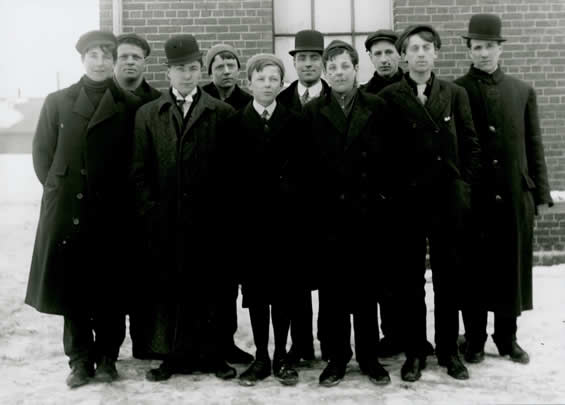 These ten men in civilian clothing were about to join the Navy.
First Moments as Sailors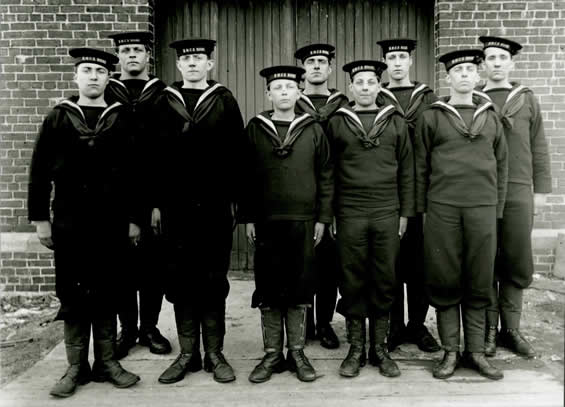 These nine men in sailor clothing had just joined the Navy. One of the first ten volunteers was apparently not accepted.
Canada answers the call
Listen to the following 1964 radio program about Canadian reaction to the start of the war.
Source: CBC radio archives (Flanders' Fields, Nov. 22 1964, hosted by Joseph Schull, with Thomas Morrisey, Charles Price, G.R. Stevens)
Try to understand the official reactions of the Canadian government and the reactions of the Canadian people. (Here is some help to understand the program)
Japanese Canadian in Uniform
Source: George Metcalf Archival Collection (CWM 19940001-191)
Available online on the Canadian War Museum website
http://www.warmuseum.ca/cwm/exhibitions/guerre/recruitment-e.aspx
Canadians who belonged to visible minorities could not enlist in the military at the beginning of the war. But in 1916, Britain needed more men and recruitments were falling to low levels. The decision was made to allow minorities in the army. That's how more than 200 Canadians of Japanese descent became soldiers. It was a significant step in the process of their integration into the mainstream Canadian society.
Japanese Canadians, WWI and the franchise
"In 1916, 222 Japanese Canadian volunteers enlisted in the Canadian Expeditionary Force (CEF) for military service overseas in the First World War. Through enlisting, they overcame racial barriers and showed their determination to win their citizenship rights through military service. The Japanese Canadian soldiers fought in most of the major engagements of the CEF on the Western Front in Europe in 1917 and 1918. Their valour was recognized in the awarding of 11 Military Medals for Bravery to Japanese Canadian soldiers. Fifty-four, or nearly one-fourth of the Japanese Canadian soldiers were killed on the battlefield or died from wounds sustained in combat, and most of the surviving soldiers were also wounded.
In 1920, following their return to Canada, the Japanese Canadian community erected in Stanley Park, Vancouver, the impressive Japanese Canadian War Memorial. It is a distinctive monument that blends both European and Eastern design traditions. In 1920, the veterans also sought to be granted the provincial franchise, which had been denied to all Japanese Canadians following the British Columbia government's passage in 1895-96 of exclusionary legislation barring them from the vote. Despite their distinguished war service, many groups in BC reacted negatively to extending the franchise to the Japanese Canadian veterans and forced the government of Premier Oliver to withdraw its amendment to the BC Elections Act that would have granted them the provincial vote.
After their unsuccessful bid to win the franchise in 1920, the Japanese Canadian veterans formed BC Branch No. 9 of the Canadian Legion in 1926. Using this organization as a base, they forged alliances with other veterans' groups and in 1931 sent their leaders (President Sgt. Masumi Mitsui; Secretary Corporal Saisonuke Kobuta; Businessman Saburo Shinbone; Naburo Murakami; Rikuzo Hoita; Nobuhei Watanabe; and Legion Provincial Secretary Robert Macnicol) to Victoria to lobby members of the BC Legislative Assembly again in an effort to win the franchise. At the end of that debate, they succeeded in attaining the provincial franchise by a single vote (19-18) in a division of the legislative assembly. They became the first group of Asian Canadians to win the vote in British Columbia, a province that had enacted a long list of racial exclusions with respect to the franchise. Their efforts thereby produced a major breakthrough in Canada's constitutional evolution to a full democracy, paving the way for other groups of Asian origin, a process eventually leading to the recognition of the political rights of all Canadians."
Source: "The Japanese Canadian Soldiers of the First World War and the Fight to Win the Vote", written by David R. Mitsui
Available online at http://jccabulletin-geppo.ca/featured/the-japanese-canadian-soldiers-of-the-first-world-war-and-the-fight-to-win-the-vote/
How were India and the Indians involved in the war? With what consequences?
Britain and the Indian army
When Britain entered the war, India was automatically at war too. Britain could therefore count from the start on a well-trained and well-staffed standing army. In August 1914, the Indian Army comprised 138 infantry battalions and 39 horsed cavalry regiments. There were 200,000 enlisted men, although 45,000 of these were non-combatants such as cooks, grooms and tailors.
But the Indian army was facing specific problems. Its equipment was badly outdated. They had no mechanical transport, no grenades, no searchlights and only two machine guns to a battalion. Their medical provision was poor and their uniforms were khaki drill, a thin cotton material, suited to an Indian climate but totally inadequate for harsh winters in Northern Europe.
Indian regiments were sent to France as early as 1914. But they suffered terrible casualties and it soon became apparent that the Indian army could not efficiently fight a war so far away from home. Many Indian regiments were then relocated closer to India, in Mesopotamia where they fought more efficiently.

Source: adapted from "The Indian Army in 1914", published online on the Commonwealth War Graves Commission website
http://www.cwgc.org/foreverindia/context/indian-army-in-1914.php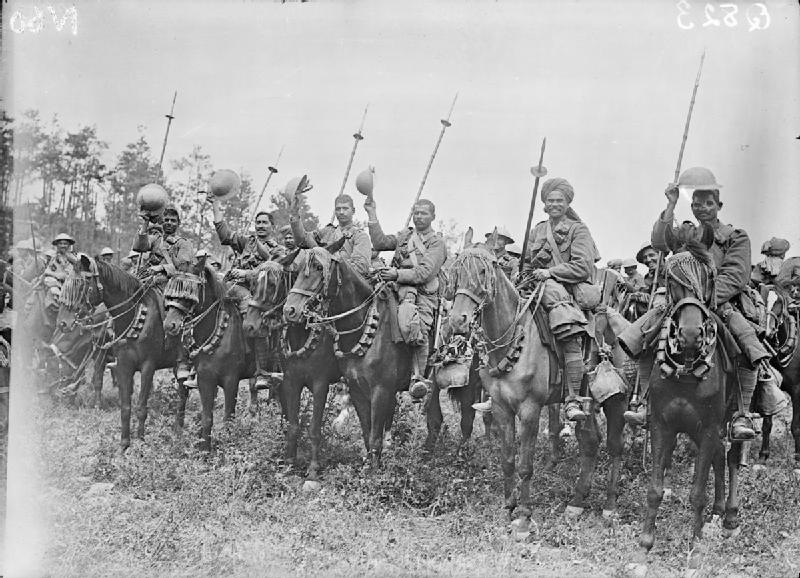 Indian cavalry of the 20th Deccan Horse in the Carnoy Valley shortly before their unsuccessful attack at High Wood during the Somme offensive, 14 July 1916
The political context
When war broke out, India was in a state of growing political unrest, with the Indian National Congress party pushing for self-government. However, it was believed that the cause of Indian independence would be best served by helping Britain in whatever capacity possible.
Indian nationalists deemed that Indian participation to the British war effort would give them decisive arguments in their discussions with the British government over Indian self-determination ((Self-determination, self-government: the right to govern oneself (approx. autonomie))).

Source: adapted from "The Indian Army in 1914", published online on the Commonwealth War Graves Commission website
http://www.cwgc.org/foreverindia/context/indian-army-in-1914.php
Completing the task
Characters you could decide to choose:
In Canada, you could be Sir Robert Borden, Prime minister during the war, or one of his main political opponents, sir Wilfrid Laurier, former Prime minister. You could organize a discussion between two militia members, one who volunteers in 1914 and one who refuses to. You could be a Japanese-Canadian who wants to join but can't before 1916.
In India, you could be a cavalier in the Indian army. You could also be two nationalists who argue over whether India should participate to that war.

Découvrez le portail de la Mission Centenaire