Jerry Schatzberg présente «The Panic in Needle Park» (Jerry Schatzberg - 1971)
Publié
par

Marion Coste
le
19/10/2016
Jerry Schatzberg est venu le 12 octobre 2016 à Lyon pour présenter son film ((The Panic in Needle Park)) dans le cadre du Festival Lumière. Écrit par Joan Didion et John Gregory Dunne (d'après le roman du même nom de James Mill), le film dépeint la descente aux enfers d'Helen, tombée amoureuse de Bobby, un jeune héroïnomane qui l'entraîne dans la dépendance au moment de la grande pénurie d'héroïne qui frappe New York à la fin des années 60.
Ce texte est une retranscription de sa présentation, qui a été par endroits modifiée pour l'adapter au format écrit.
Thierry [Frémaux] likes it when I tell the story how Pacino and I got involved with the film, but before that I'd like to turn your attention to the actress in the film, Kitty Winn.
The producer found her in San Francisco, she was working for a repertory company. He told me about her and I flew out to California; she was really just what I wanted. We had a discussion and just at the end, I asked her what she thought about the nudity in the film. And she said: "What nudity?". She hadn't realised there was nudity in the film, so I told her to think about it and to get back to me. She [later] wrote to me saying it was fine, but when we had the schedule, she kept pushing it back and pushing it back. In the end, I told her we had to shoot those scenes, and she [reluctantly] agreed.
I found out afterwards that it wasn't the nudity she was worried about, it was her grandmother seeing the nudity. I also found out that her grand-father was General George C. Marshall ((George C. Marshall fut l'un des principaux conseillers de Roosvelt durant la Seconde Guerre mondiale.)). She's quite marvellous in the film and she won the Golden Palm at Cannes.
Four years before I even made a film, I'd seen Pacino on stage and he knocked me out, he was amazing; I was sitting in the audience and the hair at the back of my neck stood up because he was so powerful. My manager and I went backstage to see whether we could sign him up as a client, and he [turned out] to be this little pussycat. He was so powerful on stage, and this change of character was very endearing. When I left, I told my manager that when I made a film, this was the guy I wanted to work with.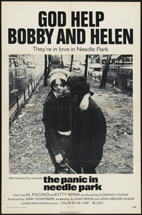 We fastforward five years and I have just finished my first film. An accident happened in the lab, and they scratched the last six minutes of my first film, which upset me tremendously. My agent had seen the film and had liked it very much; they were looking for a director for Panic at Needle Park and they sent me the script. I read it in this state of mind and turned it down […]. My agent later told me that Pacino was interested, so I read it again and of course it seemed like a different script because I knew who the character was, knowing Pacino [would get the role].
I went back to the producers and apologized; I told them I had been pretty stupid [for turning it down] and they agreed with me. We started all over.
The producers had a deal with Fox for the film: they agreed to everything, except they didn't want Pacino. They said he was too old (he was thirty-one, looking twenty-one). The producers went through the charade and the casting process. I read every young actor in New York and the last one to come in was Robert De Niro. He blew me away. But Pacino was, for me, the character: I thought De Niro was acting the character, but in my head it was Pacino.
I was walking in the street one day and I heard a voice saying: "Hey man, I really wanna do that part". I turned around and it was Robert De Niro. I didn't really know what to do because he'd caught me by surprise, so I told him the truth. He looked at me, didn't say a word, turned around and walked away.
Through the years, when we see each other, we just sort of nod at each other but we never say "Hello, how are you?". Three months ago, there was a tribute for Morgan Freeman at Lincoln Center and De Niro and I were on the schedule to talk. They wanted us back on stage for the photographs after Morgan spoke and De Niro was the last one to come out. He walked past me, stopped, went back and said: "Hi Jerry". So after 43 years we were able to say "Hi".